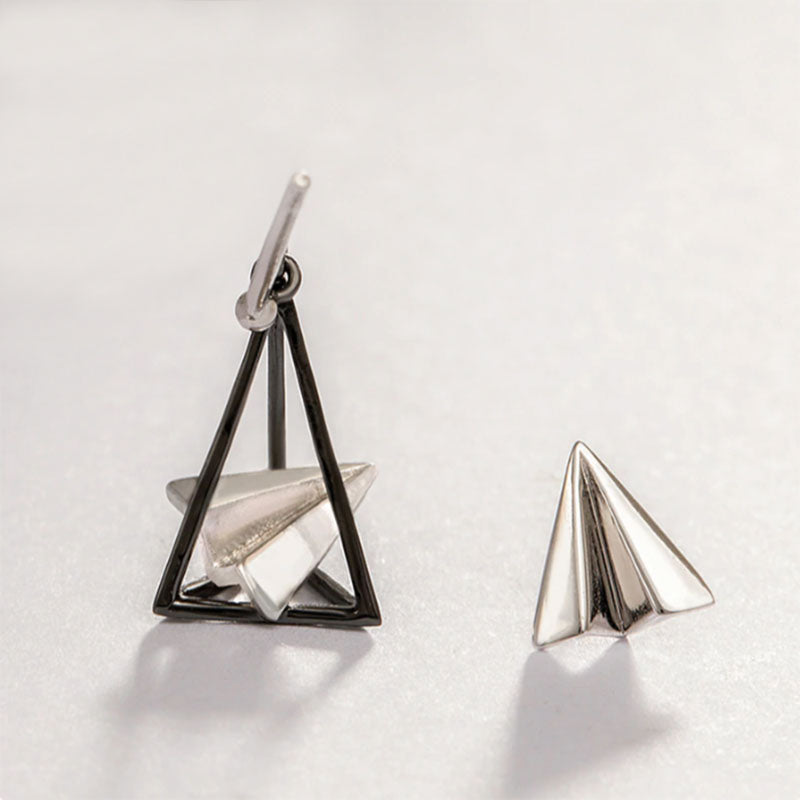 It may be traditions, family, society, technology, or even our own self-doubts which make us feel like we are trapped in a cage, wanting or waiting for the right time to be free... for us to make our own decision independent of anyone or anything. We want to be free from that cage, to fly freely and feel peace within ourselves.

Design Idea: The earrings are like paper planes that are going to fly out of the cage. The triangular cage symbolizes the bondage. On the other side is a silver-glossed paper airplane stud earring, which symbolizes freedom, even if one's days can live bright and beautiful, and calm.
Product Details:
Material: 925 Sterling Silver
Package includes: 1 pair of earrings
 NOT available in stores
 Free Worldwide Shipping 

 30 Days Money Back Guarantee
*After processing, delivery may take 2-4 weeks depending on your location.
Store in a clean, dry place. To maintain original quality, we recommend removing your jewelry before engaging in any activities that can lead to contact with moisture or friction (example: washing your hands, sleeping, swimming and taking a bath/shower).
USA: 5-10 business days
Rest of the World: 2-4 weeks
*For custom jewelry, please allow extra 2-4 business days for processing