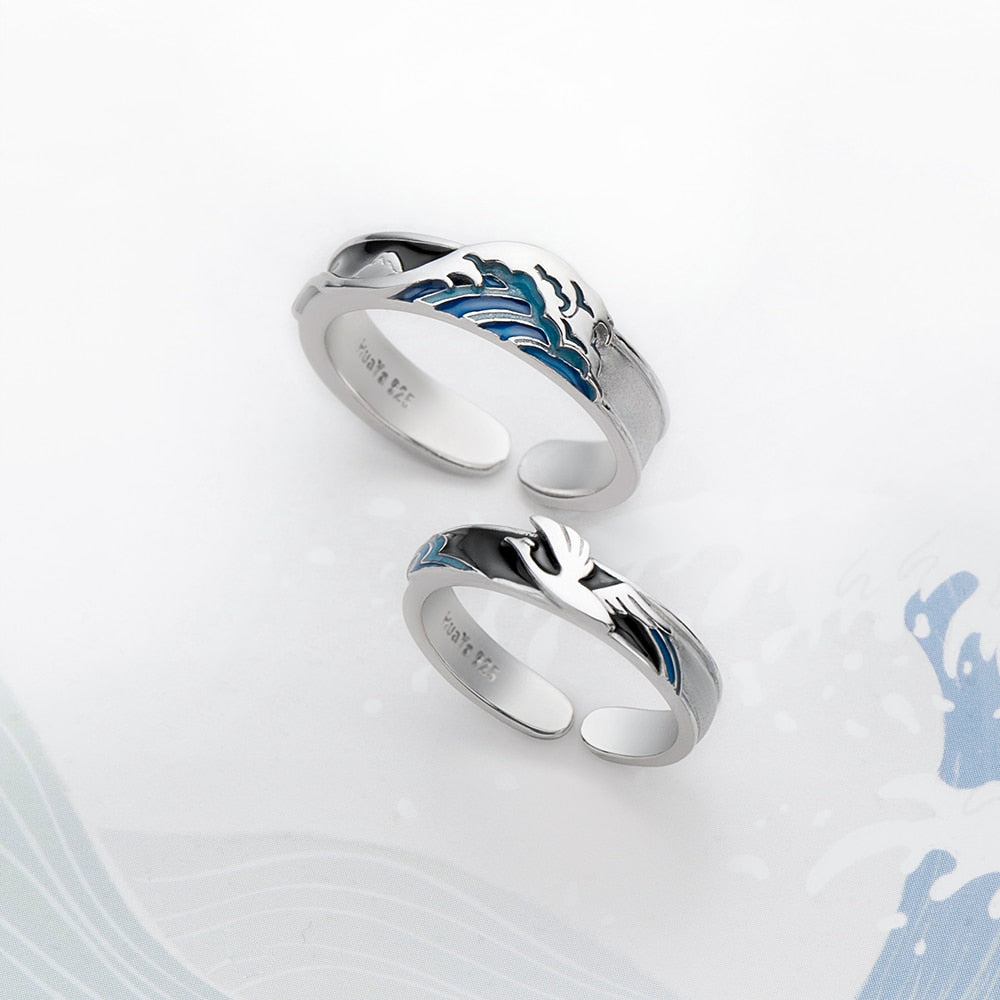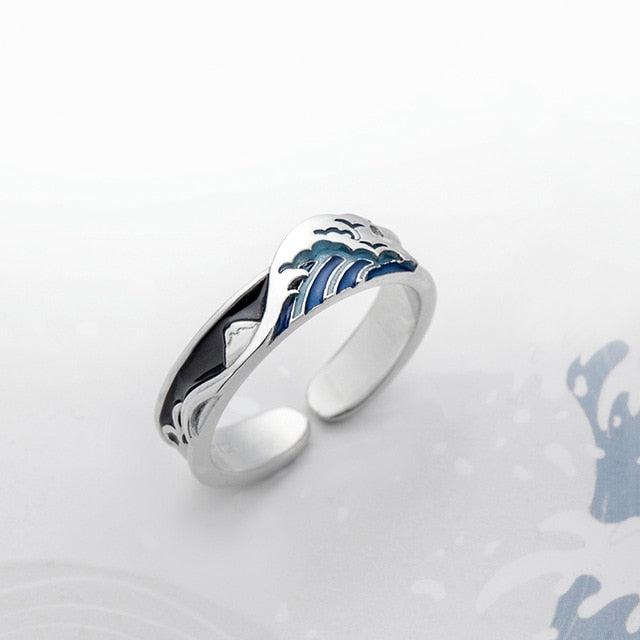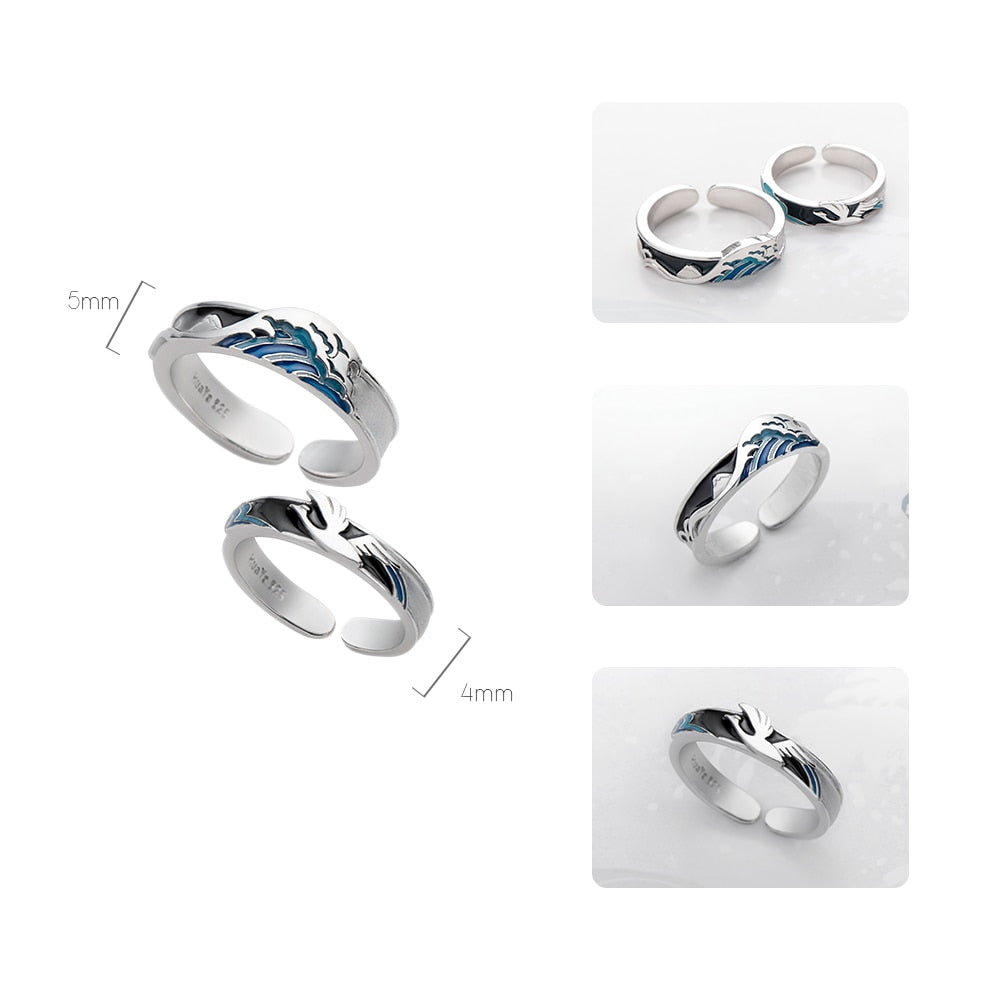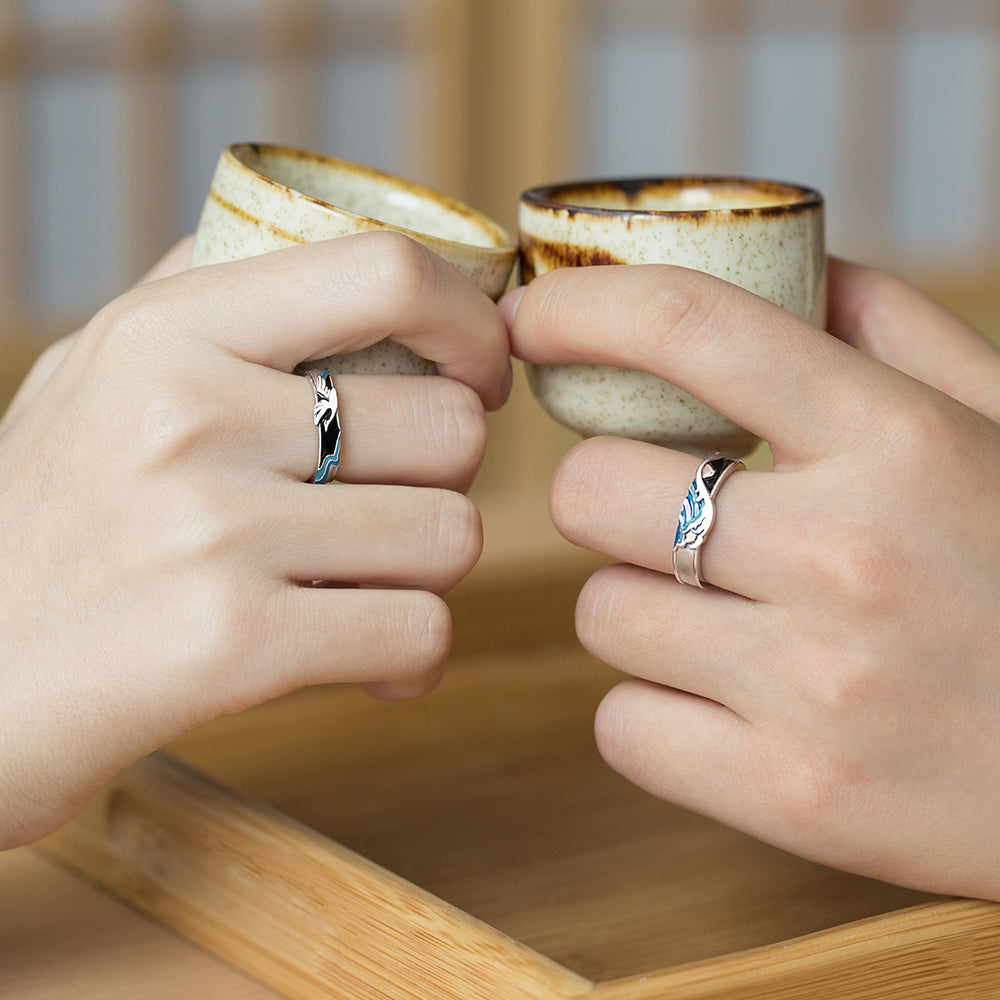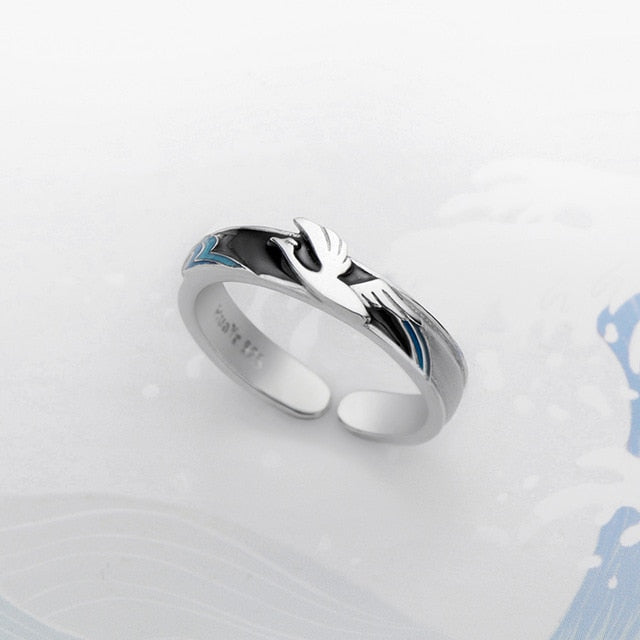 Ocean Surf Couple's Rings
The ring is inspired on the world-famous Ukiyo painting "Kanagawa Surf". The waves represent the twists and turns in life. Blue represents pure and subtle romance. Bird surfing symbolizes calmness, firmness and courage.
Specification: The main body of the ring is made of S925 silver. The black, sky blue and sea blue tricolor technology is used to make the layered waves, creating a scene that the waves are higher than the waves.
The silver waves of the Men's Ring are carved out of hollowing, reflecting the wings of the birds on the Female Ring, showing the reluctant love of the seabirds even when the waves overturn.

Additional Details:
Material: 925 Sterling Silver

Size: 5-9 US (Adjustable)
Store in a clean, dry place. To maintain original quality, we recommend removing your jewelry before engaging in any activities that can lead to contact with moisture or friction (example: washing your hands, sleeping, swimming and taking a bath/shower).
USA: 5-10 business days
Rest of the World: 2-4 weeks
*For custom jewelry, please allow extra 2-4 business days for processing
Second time buying
I have bought one once in 02/01/2020. I lost mine so I had to buy another one cuz I'm matching my my girl. Its funny how in three years there's only 3 reviews, 2 of which is mine. This time around, the ring... I'm not sure. It felt like it's different, maybe bcuz it's been a months since I wore one. It felt rlly different, but in reality, it might not be tht much different. Felt more thicker, maybe a little different in alignment but looking closely, it might have been the same. I'm not sure if u can find this exact one or similar product elsewhere for cheaper but I ain't going to look for it, won't want to feel bad. There's a sticker written in chinese regarding it being certified 925 silver so hope it's real. A lot of ring are probably made from the same manufacturer but overall, it's not like its a scam from what I know.
I'm not a bot nor bought to do this review
Girlfriend got me one of these, like it a lot. The ring has been with me for months now, it's quite sturdy. I use it at gym and my work, which is jus little less than construction work. It isn't hurt and scratches are yet to be seen. Sometimes its tight, but it's alright by getting use to resizing it. Like the blue a lot, maybe it could pop out more. It jus draws you a little but more with lights shining in. Some might fine the resizing a bit troubling, but it ain't so bad until u use it longer
Made my Hokusai-loving heart very happy
While my girlfriend is a huge Van Gogh fan, I am a huge Hokusai fan. This is the best gift I've ever given myself. A little big for a female finger, but it's perfect overall. Thank you M&M!