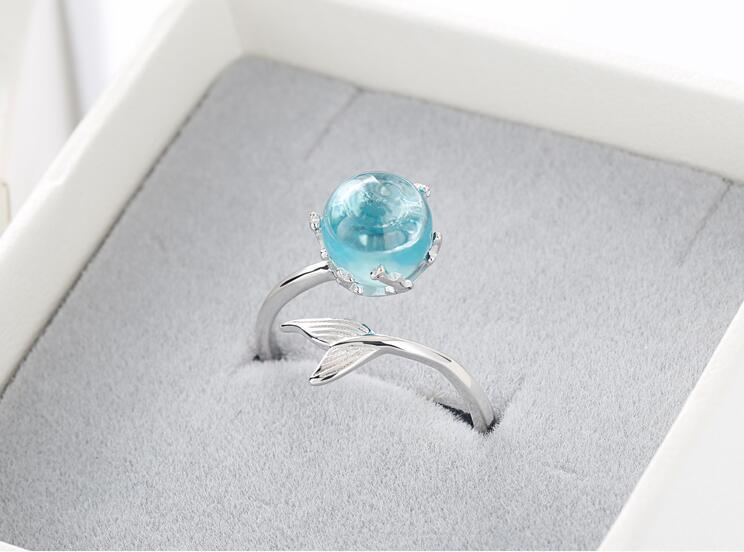 Inspired by the elegance and beauty of mermaids, this dazzling ring's design is one of a kind. 
This ring features blue crystal and an alluring mermaid tail. It also symbolizes feminine strength and power which reminds you that you are independent, strong and confident in whatever challenge you face in life.
Unique and elegant as it is, this ring is the perfect addition to your jewelry collection.
Additional Details:
Material: 925 Sterling Silver

Size: Resizable
Store in a clean, dry place. To maintain original quality, we recommend removing your jewelry before engaging in any activities that can lead to contact with moisture or friction (example: washing your hands, sleeping, swimming and taking a bath/shower).
USA: 5-10 business days
Rest of the World: 2-4 weeks
*For custom jewelry, please allow extra 2-4 business days for processing
Beautiful aquatic design
I received the ring today and I was shocked by how beautiful it looked in person. The design is adorable and I noticed the little coral or seaweed that hugs the orb which represents the ocean (quite unique if I may add) the ring fits nicely and the details on the ring is superb! From the mermaid tail to the light blue orb that embodies the ocean along with the coral/seaweed around the orb, everything about the ring is unique in my opinion and stunning! I'm quite satisfied by the purchases and love them so much!
Its very beautiful gift. My ring was a little bit dirty, but still useful.
Very stylish and elegant ring. A perfect embodiment of the idea of a ring with a drop of the sea. Attracts the look-all the time i want to look in it like a magic crystal ball.